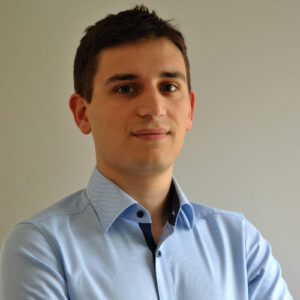 Kontakt
Johannes Gutenberg-Universität Mainz
Fachbereich 02: Sozialwissenschaften, Medien & Sport
Institut für Soziologie
Technik- und Innovationssoziologie, Simulationsmethoden
Jakob-Welder-Weg 20
55128 Mainz
Philosophicum II, Raum 03-309
Tel +49 39-24828
Massimo Rusconi ist Doktorand im Fachbereich Methoden und Modelle für wirtschaftliche Entscheidungen an der Universität Insubria (Italien), Visiting Scholar am Technology & Innovation Sociology, Social Simulation Lab an der Johannes Gutenberg-Universität Mainz (Deutschland) und Gastwissenschaftler am Fachbereich Innovationsökonomie an der Universität Hohenheim (Deutschland). Er hat einen Bachelor-Abschluss in Philosophie (B.A.), einen Doppel-Master-Abschluss in International Business and Economics (M.Sc., Universität Hohenheim) und in Global Entrepreneurship Economics and Management (M.Sc., Universität Insubria) mit Schwerpunkt Innovationsökonomie sowie einen zweiten Master-Abschluss (dritter Zyklus) in Data Science (Universität Mailand). Er arbeitet an der Simulation von Wissensnetzwerken mittels agentenbasierter Modellierungstechniken und an den erkenntnistheoretischen Fragen im Zusammenhang mit der Anwendung von ABMs.
Forschungsschwerpunkte
Die Epistemologie der Simulationstechniken mit Schwerpunkt auf Agentenbasierten Modellen und emergenten Phänomenen;
Der Begriff der verteilten Kognition und das Konzept des Wissens in der Literatur der Innovationsökonomie;
Die Entwicklung eines Agentenbasierten Modells zur Wissensflussdynamik und Wiederverwendung von vorhandenem Wissen in innovativen Unternehmen.